Bunny Stream Encoding
Bunny Stream provides users with powerful and most of all free transcoding of their videos.
It allows users to convert their videos into multiple desired resolutions for maximum compatibility with the end-user that ends up watching them, as our player will intelligently select the best resolution to play to the user, therefore minimalizing buffering on unstable and/or poor connections.
Encoding aside, we also provide an abundance of highly customizable options with which you can further tweak the end result of the videos.
Where can I find these settings?
The Bunny Stream Video Library encoding settings can be found within the Bunny Dashboard. It is under Stream > Your Library > Encoding.
Understanding the options offered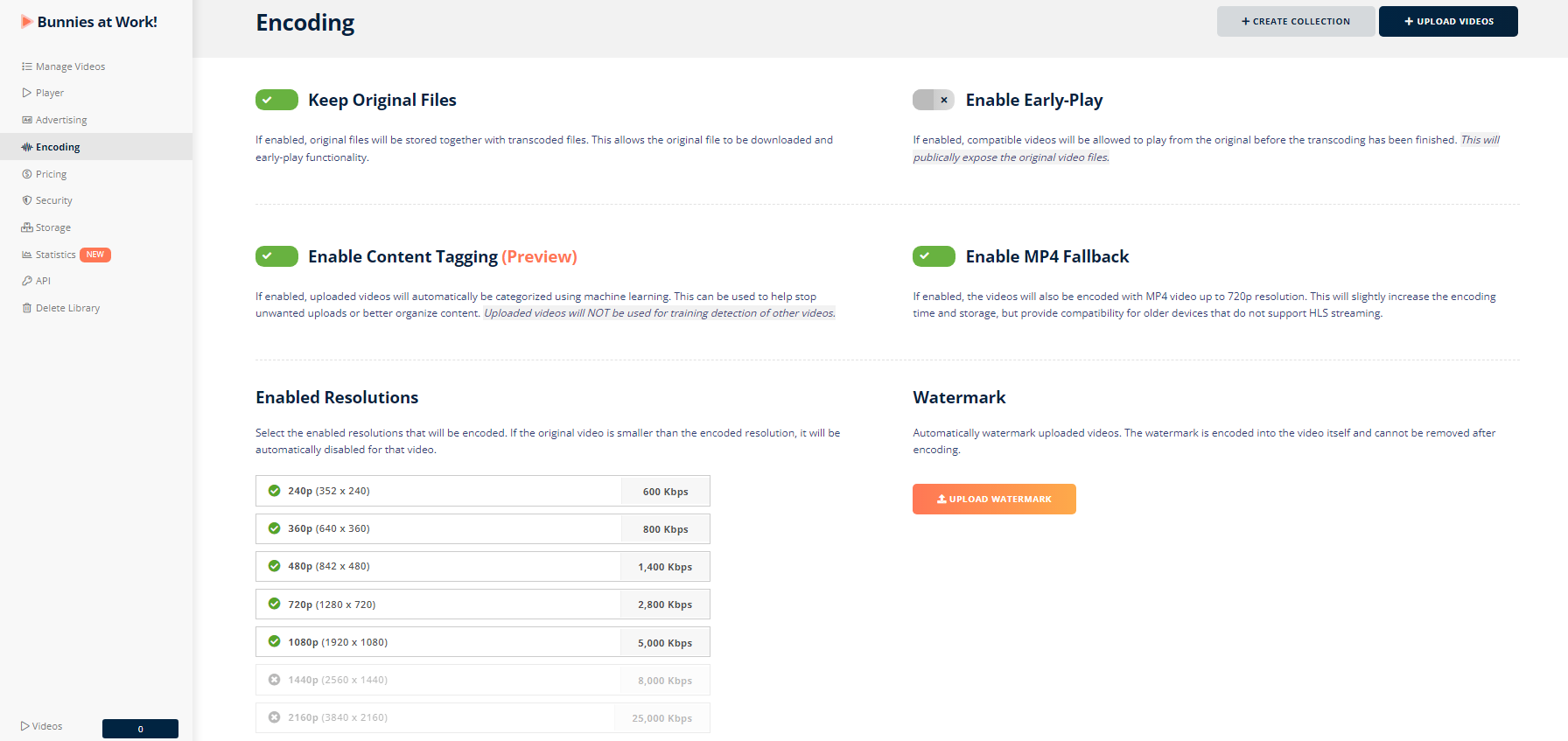 Keep Original Files
This is the original file of your video which is very useful in case you want to store your original files with us as well along with the encoded ones. In addition, the reencoding of existing videos can only be performed if Original Files are kept with us. It also allows you to download the original files of your videos again in case you deleted them locally on your computer or server by accident. Please keep in mind that for an original file to be kept, this option has to be enabled before you upload a video.
Enable Early-Play
Enabling Early-Play can come in handy if you wish to play your video before all the resolutions are done transcoding. Using this option will use the resolution that your original video comes with and will play the original file, which in turn, will expose the original file to the public. Do not toggle this on if you do not wish the original file to be accessible.
Enable Content Tagging
Content tagging is still a preview at this point and will only tag videos at the moment with their associated content. The current existing categories that it can assign a video with are the following;
Adult
Animals Birds
Animals Cats
Animals Dogs
Animated
Anime
Gaming
Graphics
Illustrations
Movie
Other
Other People
Sports Basketball
Sports Hockey
Sports Other
Sports Soccer
Sports Tennis
Please keep in mind that for a video to be tagged, this option has to be enabled before you upload a video. In the case that you are curious about the more specific details of how Content Tagging works, we would recommend reading this article.
Enable MP4 Fallback
Generates an MP4 file that you are able to use should you have the need for it. Please keep in mind that the fallback in question, goes only up to 720P, along with that, this option needs to be enabled before you upload a video, as it generates a fallback only upon encoding.
Should you seek to find out more about how to construct an MP4 URL using our Stream, please follow this guide.
Enabled Resolutions
The following option allows you to decide which resolutions you want your video to be encoded in. This is extremely useful when it comes to maximizing compatibility with your users, as you can provide them with several resolutions to choose from depending on their internet connection speed and quality. Just like with the other options, the resolutions need to be configured before a video is uploaded.
In addition to being able to choose resolutions to be encoded in your videos, you can also tweak around with the bitrate of the videos themselves by clicking on the bitrate value next to the resolution. Bitrate allows you to control the video image quality, the higher it is, the better the quality will be and the more space on storage will the videos will consume.
Watermark
This allows you to set the watermark for the video library. A watermark will be applied to each video that is uploaded. This option must be enabled before you upload a video for the watermark to appear on the video itself.
Why are my videos taking up more space than they should?
You may notice that once a video is uploaded, it consumes a larger amount of storage space than it is using on your local machine. This would be due to the encoding options that you've set under the Encoding Tab of your Video Library, you can find the options that increase the size below;
MP4 Fallback
Keep Original Files
Enabled Resolutions
If you wish to reduce the size of the final encoded video, you may want to look at which resolutions and/or options you need, whilst disabling the ones you don't need. Please keep in mind that videos only uploaded after the changes will be affected by the change.